Drilling Equipment and Spare Parts Supplier
Drilling equipment is widely used in oilfield supply stores in both land and offshore markets, for designing and forming the top of the line drill rigs, especially for the minerals drilling industries. Such Drill Rigs are working on every continent in the world and are mostly used for mineral exploration drilling, geothermal drilling, construction drilling, water well drilling etc.
We at Refteck are specialists in supplying the best drilling equipment and spare parts, which has earned the reputation of erecting the best drilling rigs today. The OEM's we work with are known for their sturdy dependability and low maintenance. Services provided by our team allows us to offer the best equipment and spare parts for a wide range of drill rig models that satisfy a variety of needs, including auger drilling, wet rotary drilling, core drilling, and down-the-hole hammer drilling. Our clients also receive an unmatched MRO services and support that you won't find anywhere else.
Draw Works
The principal parts of the draw works are the drum, the drum brakes, transmission, and cathead. Draw works spare parts are most popular in Domestic Market, Middle-East, and Southeast Asia, Draw works is the primary hoisting machinery that is a component of a rotary drilling rig. Our services fused with our customer service will bring you a sophisticated, well-oiled business process that is able to address all business process requirements.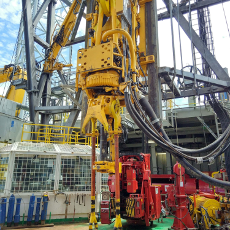 Travelling Block
Refteck supplies a wide range of traveling block and spare parts from well-reputed manufacturers, A traveling block is a set of pulleys which forms part of a system in the derrick for lowering and lifting heavy things into or out of the wellbore. We also offer Multiple Sheave Unites, Customer Engineered Designs to meet each customer's specific requirements from standard to highly tailor-made solutions.
Coiled Tubing
Coiled tubing is widely used in the petrochemical, natural gas, oil and gas, and geothermal applications. Most of the standard sizes of coiled tubes are readily available for the industrial uses. At Refteck we supply both stainless steel seamless coiled tubes and stainless welded coiled tubes which are available in a wide range of steel, i.e. nickel, titanium, and other special alloys. We hold a extensive experience in supplying coiled tubing from the duplex, nickel alloy and stainless steel grades to industry and customer-specific requirements.
Drilling Instrumentation
With today's tough drilling environments there is a critical need for rugged, dependable and accurate tools. Refteck provides a complete line of Oilfield Instruments equipment. With everything from pressure gauges to complete systems, we will help identify the highest quality, the most cost-effective product for your job, and then back it with individual attention.
Drilling Generators
Power generators are important tools for anyone who wants extra protection in emergencies against power loss.  For the
oil and gas industry
, power generators are a very important necessity. These generators provide key power sources for the oil and gas industry, particularly to assist with drilling and digging. The procedure of both drilling and digging are key to these industries, and a lot of power is needed to provide service to heavy equipment.
Wireline Equipment
Wireline Equipment consists of braided cables that are used for pipe recovery, evaluation purposes, well intervention and maintenance. The cabling system is used by operators to lower down wireline equipment and tools, or any other measuring devices into a wellbore. It also contains electrical cables which are used to check the condition of the wellbore. These equipment are extensively used in oil and gas industries.

Refteck offers Modern Wireline types of equipment which can withstand a harsh environment since in the gas wells the pressure can exceed 30,000 psi and in a geothermal well the temperature can be as high as 500 degrees Fahrenheit.
Completion Tools
Completion equipment is that equipment which is used to bring an oil well to the completion state so that first test production and later on commercial production can be started from it. The completion tools are handy during good completion and help in making an oil and gas well safely and effectively producing hydrocarbons. Refteck offers a comprehensive completion tool line, from an Open hole and Cemented Multi-Stage Stimulation systems to Composite Plugs. Tools used are Wellhead, Tubing hanger, Production tubing, Downhole safety valve (DHSV), Annular safety valve, Electrical submersible pump, Landing nipple, Sliding sleeve, Centraliser, Side pocket mandrel.
Oil Tools
Oil Tools are pieces of oilfield equipment that are used during well drilling, completion, and intervention or well workover activities and help the oil well in optimising the production levels and maintain a continuous flow from a reservoir.

Downhole tools help in minimising the cost involved in performing oil recovery-related activities from an oil well and helps in improving the life of an oil well and thus, improving the continuous flow of fluid. These tools perform various operations such as fishing of any leftover equipment/tool in the borehole, repairing & performing any cementing and well casing operations, well measurement, creating fracs in the reservoir bed, etc.
Power Swivels
The Power Swivels are hydraulic motor driven, pipe rotating machines. Their drilling application includes oil and gas wells, water wells, piling drilling for offshore platforms, piers, and foundation drilling for construction.

We offer a wide range of high-performance Power Swivels systems that deliver both safety and reliability, providing you with the best selection of models to fit your specific drilling needs.